Master of Business Administration (MBA)
Duration: 2 Years
Validity: 4 Years
Total Program Fee 200,000/-
Apply Online
For most effective eLearning outcomes, for each course, learners need to spend about an hour daily.
The two year fully online MBA program is open to graduates, working professionals and entrepreneurs.
The Online MBA Program
ICFAI's Online MBA Program brings together the ICFAI's legacy of over 30 years of academic excellence in management education, two decades of vast experience in Open and Distance Learning, Flexible Distance Learning and eLearning for Management programs and contemporary technological tools that aim to equip the students with skills for the 21st century workplace.
Managers and future managers who, in addition to their existing skills want to acquire business management skills, leadership skills and excel in their careers in a dynamic business environment will benefit from the program.
KEY TAKEWAYS FROM ICFAI ONLINE MBA PROGRAM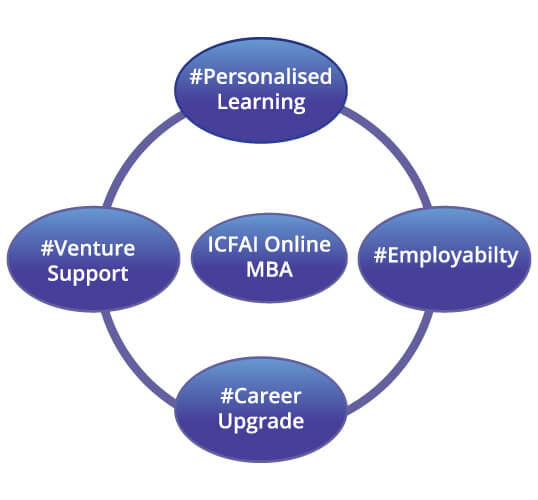 #PersonalizedLearning
Personalized learning is student centered. Each student is prompted for an individual academic journey that fits his/her strengths and needs. You learn at your pace (within the curriculum plan and standards) and fit the learning around your life, using your favourite platform, viz., smart phone, tablets, laptops and more. Isn't it truly personal?
---
#Employability
For a majority, and even more, getting qualified means getting placed in the best available job. Though ICFAI Online MBA doesn't offer placements, we help our students to acquire the skill mix and attributes which help them not only to get employed but also to be successful thereafter.
Freshers
---
#CareerUpgrade
Having performed effectively in the current role, it is common for the employees to feel brimmed. This is a natural part of career growth. Bridging the skill gap helps you to be better equipped for the next stride; be it progression or switch. It is here the ICFAI Online MBA fits in. The plus here is that you continue to work even as you learn.
Growth Beckons, Are You Ready?
---
#VentureSupport
What do entrepreneurs look for? Roll out strategies and practices to scale the business. ICFAI Online MBA is well equipped to take on these venture dilemmas. Case studies, interaction with industry leaders, learning from likeminded peers, research projects; our pedagogy has objectives and key results to nurture your entrepreneurial dream.
Entrepreneurs